Hatha Yoga School in India is for aspirants who are interested in strengthening their practice and potentially hoping to make a career out of their passion for teaching yoga. Immerse yourself in a thorough examination of Hatha Yoga's old and traditional practices. Alakhyog starts with the basics and progresses to the intermediate and expert levels. You also have an option to get into a 100 hour yoga teacher training course and later complete the rest 100 hours to become a 200 hour certified yoga teacher.
This 200 Hour Yoga teacher training in India provides Yoga enthusiasts with an understanding of sacred Yoga practices, as well as practical and theoretical Hatha Yoga knowledge. Not only will you improve your personal practice, but you will also be fully prepared as a budding master to teach Yoga. In addition, our yoga school in India is appropriate for aspirants who want to become highly skilled Yoga teachers.
Specialty Of Our 200 Hour Hatha Yoga School in India?
In this spiritual journey, you will study both theory and practical means of Yogic breathing techniques (Pranayama), Yogic cleaning (Shatkarma), Yoga positions (asanas), and meditation. You will be educated in the teaching methods for Asana (physical postures), Pranayama (breath control), and Dhyana (meditation) with deep knowledge so that you can share your experience with your own trainees. Begin your journey and discover your full potential with the guidance of yogic practices, which have been taught and practiced for millennia by spiritual gurus.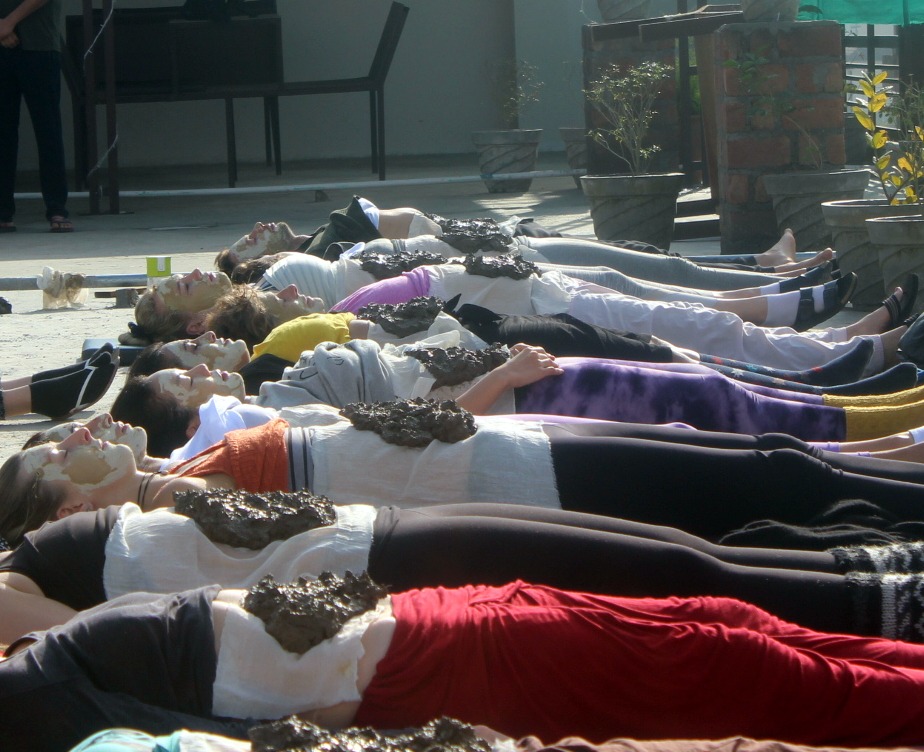 Hatha Yoga Teacher Training Schools in India
In India, you will learn Yoga in the Himalayan foothills, in the world's Yoga capital. Our school of hatha yoga school in india Alakhyog is located near the banks of the Ganges River, in the foothills of the Himalayan ranges, and is surrounded by beautiful scenery. We chose this location for Yoga because the quiet and warm ambiance is ideal for recharging spirits and instilling positivity in the mind. We also have fantastic Goa yoga retreats and silent meditation retreats in Manali that will blow your mind. For more information check out here…
Accommodation For 200 Hour Yoga Teacher Training Course India
We provide lodging at Alakhyog which is best described as a home away from home. The rooms are big, well-ventilated, well-lit, and well-furnished, with all modern amenities such as Wifi, western bathrooms, and comfy beds. You can unwind, feel at ease, and enjoy a welcoming atmosphere in which to pursue your yogic practices at hatha yoga school in india.
| | |
| --- | --- |
| Accommodation Option | Price |
| Twin Sharing Room | 1200 EUR |
| Private Room with attached Toilet | 1350 EUR |
Note: Kindly check here to be precise about accommodation facilities and services.
Overview: Hatha Yoga Teacher Training Course in India
Yoga Anatomy and Physiology – Recognize how the body is described and understood in yogic philosophy and teachings. While participating in Vinyasa Flow Yoga Classes, you will learn about the asanas (static postures), vinyasas (dynamic movements), and Pranayamas (breathing exercises) of Hatha Yoga. This is necessary for you to understand safe, stable physical alignments in Yoga postures, as well as how to tailor the training for different indications.
Learn how to keep your energetic, mental, and emotional bodies free of obstructions, which is essential for optimal health. We'll show you how to eliminate poisonous effects from your environment and energies so that you can feel lighter and happier. Learn about the subtle life force energy known as 'prana,' the various types of energies, the Nadi energy channels, and the chakra energy centres.
Ayurveda is a thousands-of-year-old science that is more than just a method of medical treatment; it is a science of life (Ayur = life, Veda = science or knowledge). Learn the wisdom that can help people maintain their vitality while reaching their greatest human potential. You'll learn about the best daily and seasonal routines, diet, behavior, and how to use your senses properly.
1.Hatha Yoga Asana:
Asanas are an important aspect of Yoga to understand and practice since they help to maintain the physical body healthy. The physical body is the vehicle for the spirit, so taking care of it is essential for spiritual growth. Asanas are used to improve emotional and energetic well-being, strengthen discipline and concentration, and prepare the mind for meditation.
2.Hatha Yoga's Traditions and Lineages:
Learning about Yoga and its heritage, tracing the traditions of the knowledge that stretches back to 5000 years, is an important aspect of this teacher training. This is critical to grasping the underlying meaning of Yoga and contains the wisdom for living a life in balance with oneself and others.
3.The Yoga Transformation:
Learn everything there is to know about Yogic Science and how it may help you make good changes in your life. Learn about the benefits of Yoga and how to recognize it.
4.The Science of Yogic Breathing:
In the study of Yoga, yogic breathing is a vital practice. It is one of Patanjali's eight-limbed path limbs and is also known as pranayama, which means "control of life force." Its goal is to increase vital energy in the body and mind. In the Teacher Training, you'll learn how Yogic breathing can help you focus and be more attentive while also providing physical and emotional advantages.
5.Understanding and practicing mindfulness:
focusing the mind and training it towards undivided attention and awareness in order to achieve a cognitively clear and emotionally tranquil state – is an important part of meditation.
6.Kriya Yoga:
Gain a thorough understanding of the entire spiritual path, which includes additional meditation techniques and proper living in order to achieve boundless consciousness.
7.Yoga Nidra:
Is a technique that leads to a relaxed body, a fluid mind, and a charged intuition. You'll learn all five levels of Yogic Nidra, as well as how to direct your consciousness to various places of the body and achieve deep relaxation.
8.Mantras and their application:
We'll look at the research behind why mantras are effective complements to yogic practices, and we'll figure out which ones work best for you.
9.Restorative Yoga:
This is a unique style of yoga in which you slow down and open your body by stretching passively. You will be able to recognize the Yoga stance sequences that allow you to completely relax and rest.
10.Advanced Sequencing:
Advanced Yoga sequences challenge you to push your limits in exciting advanced asanas while working your body from every angle. You'll also learn how to use asanas, pranayama, and meditation to build your own meaningful sequences.
11.Yogic lifestyle:
Learn about a Yogi's key principles and how to live a life of meaning and joy.
Certification in Yoga Teacher Training Course in India:
Students will receive a 200 hour yoga teacher training course after successfully completing all course requirements. These qualifications will allow you to teach Yoga in a variety of venues all around the world.