Alakhyog offers yoga teachers training program in thailand. People nowadays have a very busy life and need to take care of themselves, they need their little me time for self-care. Yoga is the best way to self-care. It is a mixture of exercise of the body as well as a mental exercise. By starting yoga you can improve your physical and psychological health. It helps in dealing with stress and relaxes your body. Yoga helps in improving immunity which helps in fighting diseases. It also improves your breathing and it also improves concentration and brings balance to postures as well as your day-to-day life. Yoga helps in improving your metabolism and improves your sleep cycle and brings strength, and flexibility to your body.
Alakhyog means creator, god, the one who is invisible and yog is a Sanskrit word that means to unite and it turned into yoga.
Course Structure
We provide an amazing program of yoga poses and exercises that goes far beyond the minimum standards the Yoga Alliance sets to provide you with a high-quality training environment. Our yoga teacher program emphasizes asana practice and instruction while approaching yoga as a road to healing and spiritual awakening.
Asana Practice & Theory in Hatha, Vinyasa, and Yin Yoga
Vipassana/Anapana Meditation
Active Meditations & OSHO Active Meditation Practice
Classic Pranayama & Breathwork for Healing
Compassionate Sharing
Yoga & Self Development
Yogi & Taoist Cultivating, Circulating & Sublimating of Energy
Anatomy and Physiology
The 6 Yogic Purification Techniques (Shatkarma)
The 8 Limbs of Yoga of Patanjali
Yamas & Niyamas
Overview of Yoga History
Meditation & Self-inquiry
Basics of Sanskrit
Introduction to Ayurveda
Energy Body Structure
Tantra & Yoga
Shankhaprakshalana Practice (Optional)
Breathwork – Samma Karuna So Ham Practice
Mantras & Mudras
The Art of Teaching – from the Mind-Intellectual to the Heart-Intuitive
Truth and Correct Understanding in Yoga (How to Interpret the Sutras)
Yoga & Business
Yoga & Nutrition
Why you choose yoga teacher training in Thailand?
Thailand is known as the land of free, Thailand is known for its beautiful nature, beaches, and pleasant weather. they have ancient temples, and amazing food, its charm attracts people. People here are health conscious so yoga is main part of their life. Here you can learn yoga and train others.
Why alakhyog for yoga teacher training in Thailand?
We are well known yoga training center in thailand, we offer various courses. we have highly skilled teachers who have experience of more than ten years. Our center has a pleasant ambiance and is away from the chaos of cities. We offer programs like 100 hours yoga teachers training program, 200 hours yoga teachers program, yoga detox retreat. We offer you programs in which we teach you from basics , we train you in various forms of asanas, pranayamas, and bandhas, and we teach about philosophy of yoga, meditation, chakras, nadis, and many more. Our program is designed so that students at the beginner level can also understand everything. After completing our course you can train others. we also offer courses to upskill your level. we have a very peaceful environment and have interactive sessions so you can explore more about yoga, and the people around you and explore more. People join from every part of the world for the yoga teachers' training programs and are fully satisfied with everything we offer.
100 hours yoga teachers training in Thailand
Alakhyog has 100 hours yoga teachers training program which offers you a full two-week course in which we will train you with a basic introduction to yoga, and yoga philosophy, we will teach you about nadis, the eight limbs of Astanga yoga, in anatomy, and physiology we will teach about body movement, about muscle, ankle, knee, hip joints and asanas to protect them, about the digestive system, about Hatha and vinyasa flow, body posture, yoga practice, breathing yoga, meditation, healing techniques. Alakhyog is recognized by the yoga alliance USA. we offer a 100hrs +100 hrs teacher training program in two parts that will go for around four weeks.
200 hours yoga teachers training in Thailand
Alakhyog has 200 hours yoga teacher training program that will go for around 4 weeks. After completing this program you will be eligible in giving training anywhere in the world as we are recognized by Yoga Alliance U.S.A., Yoga Alliance Professionals U.K., the World Yoga Council, and the International Yogic Federation. In this course, you will learn every topic in deep. We cover all topics like – asanas, pranayama, breathing exercise, kriyas, bandhas, and mudras, yoga anatomy, physiology, bio-psychology, history of yoga, karma, and reincarnation, training practice, yoga nutrition, meditation, rajadhiraja yoga, kundalini yoga, bhakti yoga, karma yoga, jinana yoga, a business of teaching yoga, activities and excursion.We are known for our teaching methods.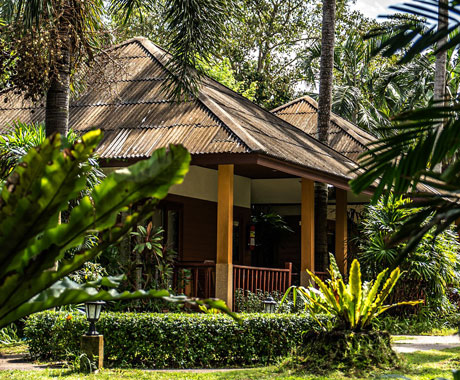 Yoga detox retreat in Thailand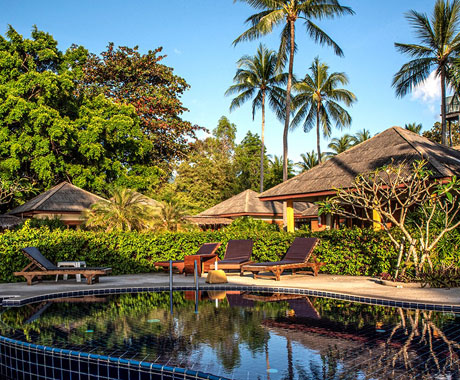 Our body should be healthy not only from the outer but should be healthy from the inside. With body, our mind and soul should be healthy and clean for which we need to detox our body. detox not only means drinking healthy juices to detox our body but its full process including asanas, pranayama, meditation, healthy food, and drinks including full relaxation of body, soul, and mind and leaving all stress behind and is the best way to know you within and get close to nature and spirituality .it is the method to remove all pollutants from your body and eliminating all disease and virus from the body. After detoxifying your body you will see changes in your body – your energy level will be increased, you will reduce waste from your body, boost your immune system, the skin will get better, your mind will be healthier, and concentration will be increased. And will exclude all the negativity from our minds.
Upcoming Dates For Yoga Teacher Training Course

Starting from 1600 USD | 24 Days | Thailand
Apply Now

Period
Non- Residential
Single / Shared
(Superior Bungalow)
Single / Shared
(Deluxe Bungalow)
Single / Shared
(Beachfront Bungalow)
Action
03 October to 26 October 2023
$1600
$2599 / $2200
$2999 / $2600
$3500 / $3100
Apply Now
For Any Queries Contact Us
Daily Schedule (Subject will change every week)
| | |
| --- | --- |
| Time | Schedule |
| 6:30 am to 8:30 am | Meditation / Pranayama / Ashtanga Vinyasa Flow / Hatha Yoga (alternative days) |
| 8:40 am to 10:00 am | Breakfast |
| 10:00 am to 11:20 am | Yoga Philosophy/Meditation |
| 11:40 am to 1:00 pm | Alignment/Theory classes |
| 1:00 pm to 2:30 pm | Lunch |
| 2:30 pm to 3:50 pm | Anatomy / Physiology |
| 4:00 pm to 5:50 pm | Art of Teaching / Restorative Yoga / Hip Opening /Jump Back / Back bending |
| 7:15 pm to 8:15 pm | Dinner |
| | Saturday Half / Sunday Full Day Off |
Our Accommodation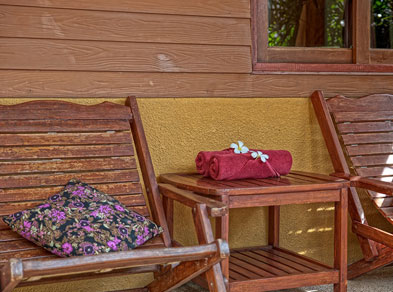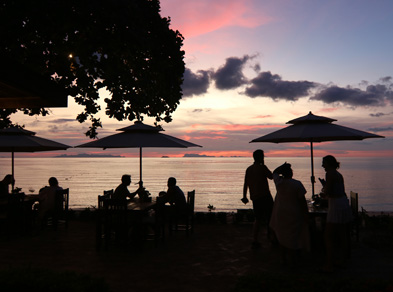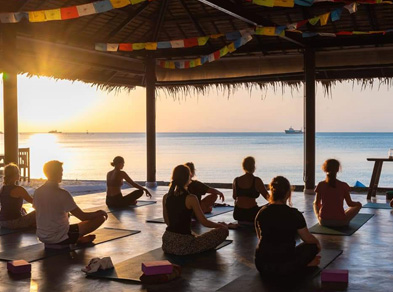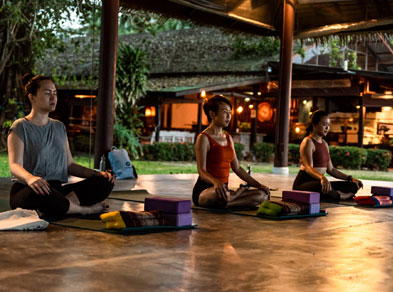 Frequently Asked Questions:-
Why join alakhyog?
Alakhyog has a very friendly environment with experienced professionals who will teach and train you. it is also located in a place which is away from cities chaos and where you can relax and do your training peacefully. And after completing the course you will be provided certification and will be certified as a trainer.
Are you affiliated yoga school?
Alakhyog is recognized by the yoga alliance USA.
What is the refund policy?
Courses are not refundable once paid.
What is the method of payment?
Payment can be made through credit/debit card, PayPal, or online transactions.
What is the language of the institution?
What is the duration of the courses?
2 weeks for 100 hours yoga teacher training program and 4 weeks for a 200hrs yoga teacher training program.
Can we join the course without any prior experience?
Yes you can join without any experience.