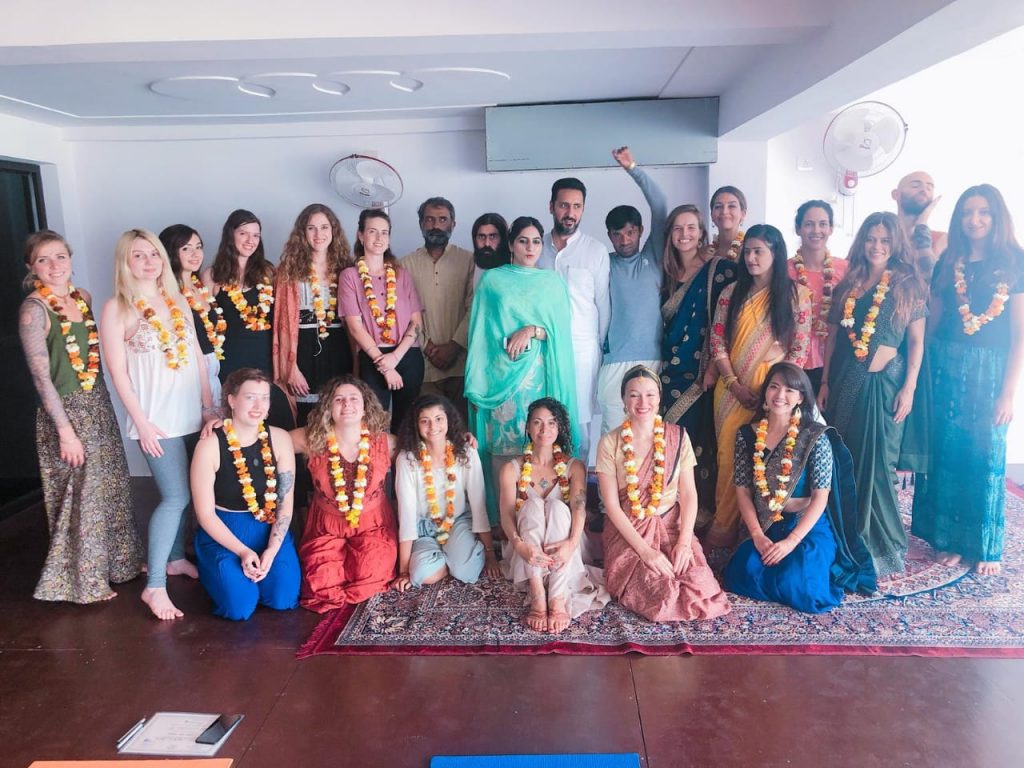 Alakhyog school offers Vedanta and meditation yoga teacher training in India. Here we have created the ideal environment for you to receive your holistic yoga and Vedanta training. In case you want a longer duration, our 200 Hour Yoga Teacher Training in India will assist you in developing and refining all parts of your teaching practice. You'll discover many levels and go deeper in mindfulness meditation while immersed in nature's splendour on our campus, which overlooks picturesque mountains and offers breathtaking views. In this amazing Vedanta and meditation yoga teacher training in India course, we will guide you through a variety of practices that are aimed to help you not only understand Yoga teaching but also build your own development. You'll learn about the various methods yogis have used to achieve holistic health, wellness, and well-being, as well as realize their actual selves!
Vedanta As A Scientific Field Of Study:
Vedanta is a physics and psychology of awareness, an inner science of self-knowledge through which outer science can gain a full understanding of the multidimensional cosmos in which we live. During the colonial era, Vedanta was derided as an otherworldly philosophy that saw the universe as Maya or illusion, keeping India behind the times. However, since Einstein's Theory of Relativity was published over a century ago, Vedanta has sounded more like cutting-edge physics, which is uncovering the illusory nature of physical reality and the existence of deeper energy and information currents beneath all we see.
Vedanta promotes a method of self-knowledge that is devoid of any religious notions. It states that in order to have a true understanding of anything, we must first know ourselves. This necessitates a shift in focus from our bodies and minds to our innermost consciousness. Vedanta uses a strictly rational approach along with introspection, yoga, and meditation Vedanta and meditation yoga teacher training in India to let us understand our own universal consciousness directly.
The Vedantic viewpoint is straightforward: you are the center of the cosmos. Your inner self is one with all of humanity's true selves. As energies of love and wisdom, we all have access to all of the universe's forces. We've progressed from materialist perspectives to a high-tech understanding of reality as energy and data. As a manifestation of consciousness, Vedanta brings us to yet another dimension of the universe.
Join us for a Vedanta and meditation yoga teacher training in India mixed with Vedic wisdom in the historic and sacred city of Rishikesh. We offer to take you on a four-day fascinating inner trip, examining our totality and completeness. We will provide yoga lessons for all levels, Vedanta classes, workshops, and exercises, as well as room to absorb the beauty of Rishikesh throughout this retreat.
Vedanta and Meditation Yoga Training in India | Highlights
Transform your body, your breath, your mind, and your emotions, as well as your life by following these steps.
Yoga practice, meditation techniques, and teaching talents will all be improved during this course.
Entrance into the actual essence of yoga and the beginning of an inner journey
Discover the benefits of Vedanta.
Become a Yoga Alliance-certified instructor to share your knowledge with others.
You can also enroll for our 200-hour Vedanta and meditation yoga teacher training in India as it is open to anyone who meets the qualifications.
We encourage students of all levels of yoga who are committed to their own personal inner journey and self-discovery to enroll in our training course.
Students who are interested in pursuing a career as a yoga instructor and earning the internationally recognized RYT-200 Teaching Certificate.
The sincere desire to experience, transform and deepen their understanding of life and yoga students who do not aim to pursue a career in the yoga industry.
Yoga Postures With Alignment and Asanas
When it comes to yoga postures, asanas are precise patterns of poses that help to stabilize the mind and body, preparing practitioners for more advanced yoga practices. Students' strength, flexibility, stability, and discipline will all increase as a result of their asana experience and knowledge gained throughout the course.
Bandhas, Mudras, and Pranayama are all forms of yoga. Pranayama, also known as yogic breath management, is an important component of hatha yoga. Body-mind cleansing, as well as the preparation for more advanced yoga, practices like Pratyahara, Dharana, Dhyan, and Samadhi, are achieved through this practice. Respiratory impulses, which are one of the channels via which autonomic nerve impulses travel, can be controlled with the use of these strategies. A systematic and scientific approach is taken to the practice of yoga to develop a thorough and comprehensive awakening to this potentially transformative form of consciousness and upward energy movement.
Yoga and Yoga Therapy: Anatomy and Physiology
The use of contemporary knowledge and understanding of the human organism, as well as ancient Yogic Wisdom, allows students to do yoga practices on a scientific foundation and in accordance with yogic principles, which has significant benefits for them. Yoga anatomy classes give students a fundamental grasp of the human body, its various systems, and their functions in the practice of Yoga and other disciplines. It is made up of the following components:
An Introduction to Anatomy and Physiology
Yoga is viewed differently in light of Anatomy and Physiology.
The Major Systems of the Human Body and Their Relationship to Yoga
Yoga Anatomy in Action Yoga Injuries are injuries that occur as a result of incorrect Yogic practices.
Yoga as a Form of Therapy
Yoga as a Stress-Relieving Practice
Concentration And Meditation
Yoga is the science of putting the body, the mind, and the spirit into a state of complete harmony with one another. Regarding attaining a condition of oneness with reality, meditation is widely recognized as the most significant occurrence on the planet. Meditative awareness, attention, or observation is the common thread that runs across the eight limbs of yoga and serves as the primary practice. In this way of managing mental activities, the senses are first removed from external objects, and then the consciousness of our being is internalized, allowing us to perceive the subtler aspects of our existence. Our holistic yoga teacher training courses include instruction in a number of meditation and mindfulness techniques from a wide range of spiritual traditions and paths, such as mindfulness.
Through Teaching Methodology and Teaching Practicum
Students learning in the classroom can be transformed by a combination of skill and effective teaching methods used in conjunction. Yoga teacher training programs cover a wide range of topics, including the approach to teaching yoga practices to new students. Students should be aware of the ideas, techniques, and processes that are involved in the process of instructing classes. After successfully completing the program, students will be taught the methods and techniques necessary for teaching a class. There is a "stepping stone" method for learning how to become a teacher.
Why Choose Alakhyog for Vedanta and Meditation Yoga Teacher Training in India?
Located in the yoga capital of the world, Alakhyog's Holistic yoga school is one of the most thorough, intensive, and transforming training programs available anywhere. Our hands-on curriculum and scientific teachings assist you in becoming a skilled and efficient yoga instructor. Our classes take a holistic approach to the practice of yoga, mixing ancient knowledge with contemporary understandings and ways of life.
Ask any yoga aspirant from anywhere in the world if he wants to lose out on the opportunity to learn Vedanta and meditation yoga teacher training in india when it comes to location. Indeed, it is the place where spirituality can be felt in the breeze from the Ganga, and breathtaking Himalayan views may be appreciated, which aid in the understanding of one's own inner consciousness.
Also, our 200-hour Vedanta and Yoga Meditation Training Course in India is most desired by aspirants as it includes instruction in all elements of existence (body-breath-mind-heart-soul). This program provides everything, including asana, pranayama, Vedanta, traditional and modern meditation, and approaches for personal growth and development. And that, too, is taught by yogis who are well-trained in their fields.